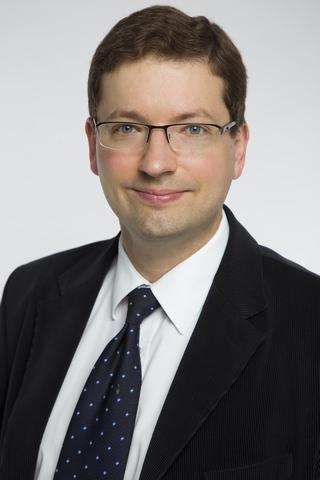 Dr. Roland Schmuck
schmuck.roland

[at]

ktk.pte.hu
In Microsoft Teams. Please ask for an appointment in email.
Dr. Roland Schmuck works as associate professor at the University of Pécs, Faculty of Business and Economics (UPFBE), Department of Leadership and Organizational Sciences.
He graduated at UPFBE with excellent result in economics. During his studies he spent a semester in Italy on an Erasmus grant. He wrote his doctoral dissertation about online business models.
He teaches strategic management, business simulations and quality management in English and in Hungarian at the Bachelor and Master courses. He is the Quality Assurance Director at the school.
He write more than 50 publications has participated in numerous Hungarian and international conferences. In 2010 he was awarded the "Most Professionally Successful South Transdanubian Participant" at the National Conference on Economic Informatics. In 2014, he was a member of the UPFBE delegation in Nanjing, and in 2015 was a co-organizer of the Sino-Hungarian International Forum.
In addition to his educational and research activities, he became involved in the local public life of Pécs. Between 2010 and 2014 he was councilman at the local government, and in 2014 he was the leader of the faction at the Municipality of Pécs. During his term of office, he was first a member of the Committee on Urban Development and Communal Services, and then of the Committee on Public Welfare and Sport. From 2019 onwards he is again a councilman and the President of the Economics Committee of the City of Pécs. Previously he was a member of the Board of Directors of Pécsi Vízmű Zrt. and a member of the Supervisory Board of Pécs Vagyonhasznosító Zrt.
He has been recognized several times during his university education. According to a survey of the UPFBE students in 2010, he was the most popular teacher at the third year of the programs. In 2013, he received a summer university scholarship to South Korea. In the fall semester of 2013, he became a the top ranked teacher at the English Master program. In many cases, he was awarded a gold rating in the "Student Opinion of Teacher Work" surveys. In the fall semester of 2015, he was ranked among the top 5 instructors of mid-sized classes based on the student survey. In the fall semester of 2017/2018, he finished second in ranking of the English Master program teachers.
 
Roland, Schmuck
Online Strategies of Companies
In: Dobrai, Katalin; László, Gyula; Sipos, Norbert (szerk.) Ferenc Farkas International Scientific Conference = Farkas Ferenc Nemzetközi Tudományos Konferencia 2018
Pécs, Magyarország : Pécsi Tudományegyetem Közgazdaságtudományi Kar Vezetés- és Szervezéstudományi Intézet, (2018) pp. 630-645. , 16 p.
Schmuck, Roland
Online vállalati stratégiák a 21. században pp. 138-147. , 10 p.
In: Tibold, Antal (szerk.) Munka és egészség : Tanulmányok a munkatudományok és a foglalkozásegészségügy határterületeiről
Budapest, Magyarország : Edge 2000 Kiadó, (2018) p. 226
Schmuck, Roland
Online Website Strategies from a Consultant's View Paper: 11 , 8 p.
In: Grubor, A (szerk.) International Scientific Conference Strategic Management and Decision Support Systems in Strategic Management : Conference Proceedings
Subotica, Szerbia : University of Novi Sad, Faculty of Economics Subotica, (2018)