We are aware that studying in a distant country can be exciting, adventurous and terrifying, and stressful at the same time. To remember the experienced adventure in the first place with your competitive degree in your hands, we have developed scholarship programmes those will help you bear the financial burden of your studies.
Scholarships of our School
New Complex Scholarship System
Complex Scholarship System for Students enrolled to the international bachelor and master programmes of the Faculty of Business and Economics University of Pécs.
The purpose of this Regulation is, therefore to set types, application- and acceptance procedures of discounts/refunds/scholarships available for the best students of our School with special attention given to international students.
Types of Discounts/Refunds/Scholarships
The Regulation provides financial support to the defined beneficiaries through five pillars:
Study Excellence Discount/Scholarship
Research Excellence Discount/Scholarship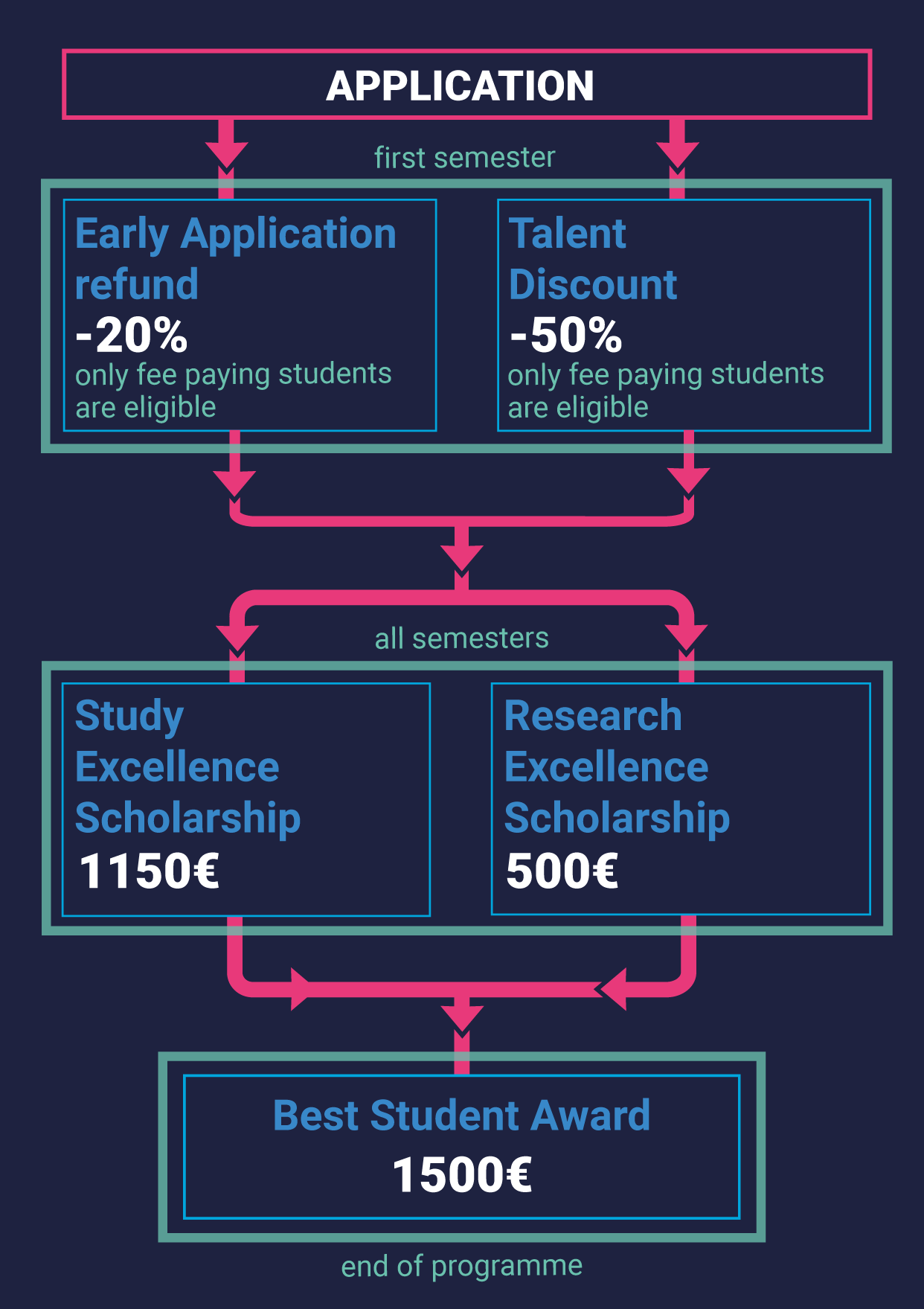 Alma Mater Scholarship
The Alma Mater Scholarship already supports the international fee-paying students in the undergraduate programme. We are extending this opportunity to our postgraduate programmes as well. 
Read more about the Alma Mater Scholarship
Pécsiközgáz Scholarship
The Pécsiközgáz Scholarship supports students who have made outstanding study, academic, sport or art achievments.
Read more about the Pécsiközgáz Scholarship
International Student Ambassador Programme of University of Pécs
International Student Ambassadors (ISAs) are current students who act as a link between their faculty and the outside community. They use their own experiences to give people interested in university life an idea of what it is like to be a student. They assist at a variety of events; their role is to give a fair and accurate representation of the university from a student perspective.
Also, from this year we would like to extend this programme and allow the ISAs to recruit students to the university in a commission-based cooperation with the faculties.
More information about the Program
External Scholarships
Stipendium Hungaricum Scholarship Programme
The Stipendium Hungaricum Scholarship Programme was launched in 2013 by the Hungarian Government as part of the government policy called "Eastern and Southern Opening". The scholarship programme is managed by Tempus Public Foundation. The core mission of the programme is to increase the number of foreign students in Hungary and to encourage Hungarian higher education institutions to attract top foreign students. Currently 68 sending partners are engaged in the programme. Every year hundreds of international students gain admission to our university with the Stipendium Hungaricum Scholarship.
About the Stipendium Hungaricum Programme
Diaspora Scholarship
Fulfil your professional dreams while you explore your Hungarian heritage – the Hungarian Diaspora Scholarship gives you an exceptional chance to develop both personally and academically. While studying in Hungary, you can discover the thousand-year-old Hungarian history and culture, experience unique Hungarian traditions and also enhance your Hungarian language skills.
More information about the Diaspora Scholarship
Bilateral State Scholarships at the Faculty of Business and Economics
The Faculty of Business and Economics at University of Pécs is actively developing its international partnership network in order to channel expertise and diversity into its educational and research programs. We support collaborations that match closely with our educational profile and research topics. If you are interested,do not hesitate do get in contact with us.  
MNB Scholarship of excellence
The National Bank of Hungary (Magyar Nemzeti Bank, MNB) has founded a scholarship programme for students of business programs. In the academic year 2023/24, they will support altogether 30 students (24 bachelor + 6 master) at our Faculty. The scholarship supports students with 50 000 HUF per month for a 5-month or 10-month period.