2021. November 8. 11:00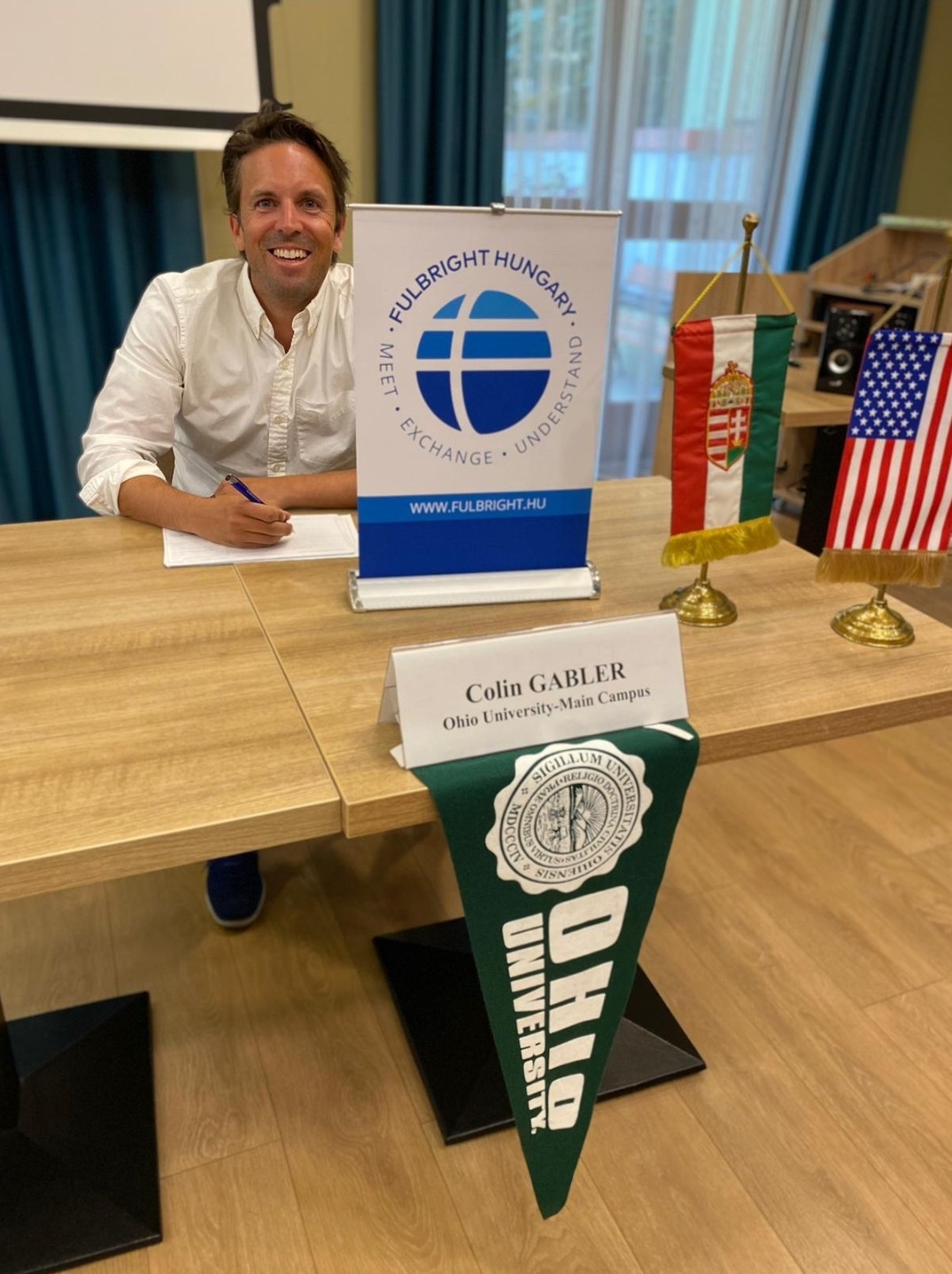 It's a great pleasure for us that Colin Gabler, Associate Professor of Ohio University spends this semester at our Faculty. We interview him about his experiences in Hungary and his work at the Faculty.
1.       Where are you from and why did you choose Hungary for your scholarship destination?
I am an Associate Professor of Marketing at Ohio University, in Athens, Ohio. Ohio University and the University of Pécs share a 30-year history, and our partnership involves both student and faculty exchanges. I visited Pécs in 2018 for a research conference and fell in love with the city and the people. Since then, I have been trying to find a way to come back. I found my answer when I heard about the US Fulbright Scholars program, which places US faculty at international institutions. You can apply to almost anywhere in the world, but for me, there was only one place I considered: the University of Pécs.
2.       What is your research area and what are you working at the Faculty of Business and Economics?
My research area is marketing strategy and I have several sub-areas of focus. Here I am working with Dr. Zsófia Vörös and Dr. Kehl Dániel on consumer decision-making and online retail strategy. Specifically, we are building experiments that examine how consumers evaluate an online shopping scenario and, ultimately, how different criteria within that scenario impact the decision to purchase the product or service. I feel incredibly lucky to have the opportunity to work with such accomplished and gifted scholars like Zsófi and Dani.
3.       How do you like our Faculty and the Hungarian students and colleagues?
I have been impressed by the faculty and students alike. The faculty are courteous and gracious hosts, inviting me to lunches, dinners, and hiking excursions. They are also world-class teachers doing incredible things in the classroom and talented scholars making an impact on business. The students are motivated and professional, willing to step outside of their comfort zones to learn new things. I have thoroughly enjoyed teaching my class. They are engaged, energetic, and they make it a fun and interesting teaching environment. Plus, they are kind enough to laugh when I make a rozs vitz.
4.       How do you like Hungary and Pécs?
Hungary is breathtaking. It has both awe-inspiring natural beauty and stunning manmade architecture. My wife and I have loved going for hikes through the woods, but also ogling the castles and incredible buildings. We have learned so much about the culture and history, and tried to experience as much music, art, and food as possible. But the thing that sticks out to me most is the warmth of the people. Since we stepped off the plane in Budapest, my wife and I have been met with kindness. Everyone has been generous with their time, their patience (we know almost no Hungarian), and their hospitality. Pécs, in particular, has begun to feel like a second home. After a trip out of town, we now get that sense of familiarity when arriving back in Pécs. We have our favorite spots for a drink, our favorite restaurants for dinner, our favorite running routes, and I still take out my phone to take a picture of the cozy streets and squares. Most importantly, we have good friends to share our time with.