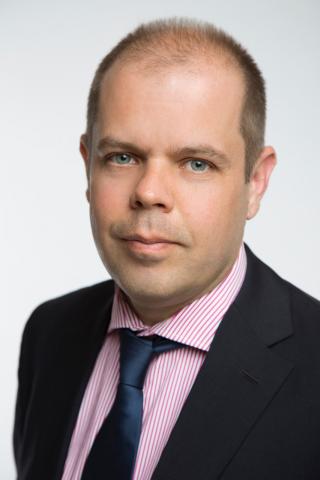 Dr. Krisztián Szűcs
Associate Professor, Head of Department (DMT), Dean's advisor for International Accreditation
Tuesday 13-14, or Please ask for an appointment in email.
Krisztián Szűcs graduated in 1999 from the Janus Pannonius University in Pécs, Hungary. He studied marketing at the Faculty of Business and Economics where he received his MSc diploma. He then continued his studies in the doctoral programme and was nominated to assistant lecturer in 2002 to the Marketing Department. He has received his doctoral degree in 2008 and habilitated in 2018. He has been working for the Marketing & Tourism Department as associate professor since 2018.
He teaches marketing research and marketing strategy primarily but he also gives lectures in consumer behavior and branding strategy. His main research areas are the changing methodology of the applied marketing research in the Digital Era and the models of omnichannel consumer decision making.

He has been working in the management of the School since 2009 and was Vice Dean for 11 years. Currently, he is the Head of the Marketing and Tourism Department. He is also the Dean's Advisor in International Accreditations.
Nagy, Á., Kemény, I., Szűcs, K., Simon, J., & Kehl, D. (2019): A véleményformáló magatartás mint másodrendű látens változó modellezése PLS-alapú struk-turális egyenletek módszerével. Statisztikai Szemle, 97(9), 824-854.
Törőcsik, M., & Szűcs, K. (2019): A hazai életstílus-kutatások történeti áttekintése. Vezetéstudomány/Budapest Management Review, 50(12).
Nagy, Á., Kemény, I., Szűcs, K., Simon, J., & Kiss, V. (2017). Are opinion leaders more satisfied? Results of a SEM model about the relationship between opinion leadership and online customer satisfaction. Society and Economy, 39(1), 141-160.
Kemény, I., Simon, J., Nagy, Á., & Szűcs, K. (2016): Measuring quality perception in electronic commerce. Industrial Management & Data Systems.
Nagy, Á., Kemény, I., Szűcs, K., Simon, J. (2016): The Relationship of Online Word-Of-Mouth Behaviour to Customer Satisfaction. In: Maja, Arslanagić-Kalajdžić; Selma, Kadić-Maglajlić (szerk.) 7th EMAC REGIONAL CONFERENCE : Where the East kisses the West: Marketing Convergence and Divergence in the New Europe. Brussels, Belgium : European Marketing Academy (EMAC), (2016) pp. 62-62. , 1 p