2020. March 6. 10:08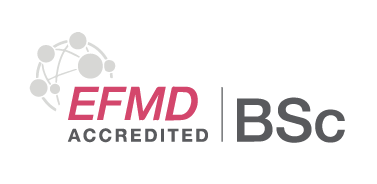 We are proud to announce that our BSc in Business Administration and Management programme has been awarded EFMD EPAS programme accreditation.
UPFBE among the best international schools!
UPFBE's BSc in Business Administration and Management programme has gained EFMD EPAS international accreditation. This leading international quality assessment system is the most thorough and comprehensive programme accreditation of business programmes. With receiving this accreditation UPFBE has become member of the international elite, it is the second institution in Hungary but also one of the firsts among the Central European schools located outside city capitals.
Due to this, UPFBE has become one of the best business schools of the world. The EFMD EPAS accreditation acknowledges the excellence of the institution, the programme, the faculty and the administrative colleagues, the partners, the students and the alumni, and also the support and cooperation that the UPFBE community proved on this path.
More details about EFMD Programme Accreditation System >
EPAS was launched in 2005 and in the past 15 years has had a considerable impact on the quality development and keeping high standards of business programmes. Since March 3 2020 91 institutions in 35 countries, only 125 programmes possess EFMD EPAS accreditation all over the world. UPFBE has been working on the accreditation process for three years, which begins with a Self-Assessment Report, and ends with a decision of the EPAS Accreditation Board after a Peer Review Visit. The system of the EFMD investigates the programme quality in a broad scope, in all its dimensions, including:
• scientific and professional quality of the School;
• financial background of the institution, including the programme's contribution and its fiscal sustainability;
• the school's intentions regarding environmental, sustainability and ethical issues;
• the school's and the programme's consciously designed and maintained, comprehensive quality assurance system;
• the programme's background and its embeddedness in the institutional strategy;
• position of the programme on the national and international market;
• quality level of the programme's curriculum, the innovative, student- and output-centred character of the teaching methodology and the content;
• qualification, international character, academic and professional competence of the faculty teaching in the programme;
• quality of the programme's students and alumni, their academic and professional preparedness.
Fulfilment of the EFMD EPAS accreditation standards was investigated by a four-member expert team on the spot, based on the knowledge gained from the Self-Assessment Report written by the school. During the visit the team reviewed the connected documentation and met the stakeholder groups of the school's community. The evaluation and recommendation of the team provided the basis of the decision of the Accreditation Board, according to which EFMD EPAS accreditation is granted to the UPFBE's BSc in Business Administration and Management programme for three years.
"UPFBE's mission is to inspire people to achieve their best – during the accreditation process we have realized that the role of EPAS accreditation means exactly the same for us. We believe in the importance of coherent operation in all its dimensions for the sake of the continuous improvement of business education. A key element of this is the consistency of the measurable performance and the defined aims, in terms of the requirements for students and the everyday work of the faculty and administration as well. Being awarded EPAS accreditation is a great acknowledgement, it inspires us to keep meeting the EFMD standards, a high quality in higher education."
Dr. Zoltán Schepp, dean