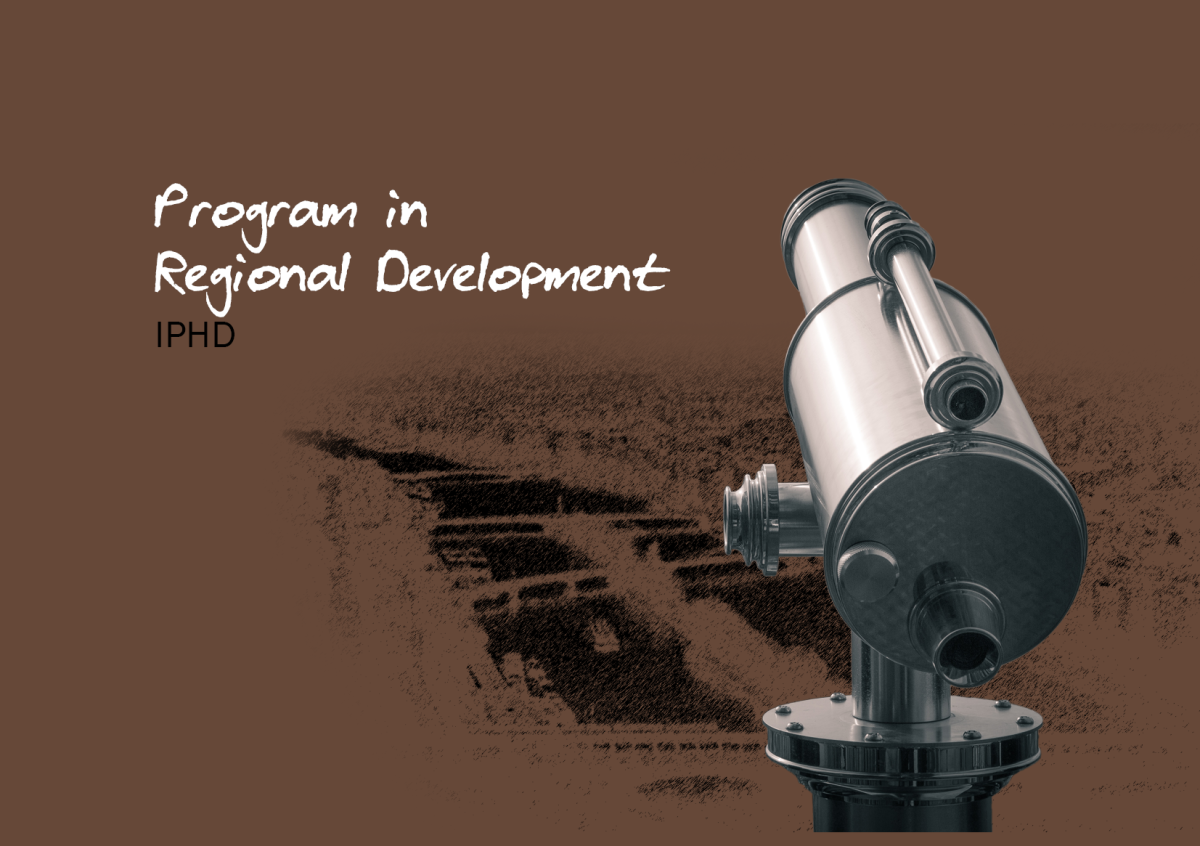 IPhD Program in Regional Development
The aim of the program is to train high-quality professionals in the field of regional development. This aim is achieved by a well-structured program that provides strong theoretical base and at the same time supports independent research under expert supervision and by regular feedback. The international network of the School and its professors provides many more opportunities than lectures only; the best students can apply for travel grants to conferences and for abroad scholarships to our partner institutions or they can be involved in some of the international projects of the Faculty and its center of excellence, the Regional Innovation and Entrepreneurship Research Centre.
The Program is designed to help students acquire the skills and knowledge necessary for writing good quality doctoral dissertations. To serve this aim the Program supports independent research by providing experienced faculty supervisors and professional feedback at dissertation seminars. From the very beginning, the Program provides methodological and practical support for individual research.
The International PhD Program in Regional Development combines the advantages of contact-based and distance-based education drawing on the contribution of its recognized national and international faculty. The educational period consists of four semesters. Though subjects are partly delivered in block teaching, there is a continuous consultation between the students and their supervisors that requires personal attendance throughout the semesters.
To complete the educational phase, PhD students have to acquire 240 credit points. In order to gain the PhD degree students need to
accomplish all the required courses (12 courses, 5 credit points each) and the three elected courses (4 credit points each) for a total of 72 coursework credits,
collect 80 research credit points and 40 credits from publications and conference papers, collect 48 teaching credits,
pass the Complex Examination,
submit and defend their dissertation.
Useful documents
Doctoral Process
In order to start the doctoral activities (which include the Doctoral Examination, and the defense of the Dissertation) students should have a minimum of 40 credit points in publication. It is required to have at least four publications. Out of these, two should be journal publications. List of accepted journals with their ranking can be accessed with this link.
Precondition: Absolutorium (coursework + teaching + research; in total 200 credits) + publication requirements (40 points) Complex Examination: oral exam in the core subjects
Submitted dissertations will be pre-evaluated by two experts in the field 
Final  evaluation by two external experts in the field 
Defense: open debate
Areas of Research
For those who do not have a clearly defined research topic yet, the academic staff provides assistance and the possibility to join their international research network. In the following, we provide a list of potential research topics and fields:
Innovation and regional development
Technological innovation is the most important source of modern economic development of regions. Students interested in the role of innovation in regional economic growth and in policies that might be followed to help regions succeed in a technology-based development path will have the possibility to be involved in internationally well-recognized innovation-related research projects. Topics include regional systems of innovation research (including research on the role of regional actors such as universities, local firms, multinational companies in innovation), the analysis of the role of global knowledge network embeddedness in regional innovation as well as impact assessment of knowledge-based regional development policies via extensions and applications of the GMR model system. For further details contact Professor Attila Varga (vargaa [at] ktk.pte.hu).
Entrepreneurship research and policy development
This type of research is based on the world's largest individual entrepreneurship data collection, the Global Entrepreneurship Monitor (http://gemconsortium.org) data set. Our academic staff lead by Professor László Szerb, together with other highly recognized scholars (Zoltán J. Ács, London School of Economics; Erkko Autio, Imperial College, London; Raquel Ortega-Argilés, University of Groningen) have developed the Global Entrepreneurship and Development Index (GEDI) and its regional version, the Regional Entrepreneurship and Development Index (REDI) (http://www.thegedi.org). The uniquely designed Penalty of Bottleneck (PB) methodology provides the possibility for tailor-made entrepreneurship policy implementation at country, regional and local (city) levels. Interested students are invited to participate in this top research that is in the absolute forefront of examining the role of entrepreneurship in economic development. For further details contact Professor László Szerb (szerb [at] ktk.pte.hu).
Financialization/financial globalization and its spatial implications on the EU financial markets
The key aim of this research is to discuss the most recent developments in the on-going global financial crisis and to critically examine the continuing financialization of economic processes that have shaped, and have been shaped by, the global and European circuits of finance. The financial crisis has demonstrated the global and geographical interconnectedness of the European financial system as a whole. While finance has traditionally been considered to be a domain of financial economics, it is evident that financial markets and financial crises are intensely geographical in nature and therefore the spatiality of finance and the approaches in Regional Economics, New Economic Geography and in Financial Geography cannot be ignored to address these challenges. The research is based on the finding of both the FP7 (RASTANEWS) network on the future of macroeconomic financial integration in Europe (http://rastanews.eu) and on the Regional Studies Association sponsored Research Network on Geographies of Finance and Post-Socialist transformations
(http://www.regionalstudies.org/networks/network/gfpst; https://www.tcd.ie/Geography/research/gof/about.php). 
Doctoral students can get access to the FP7 dataset on country-level external imbalances to analyze regional imbalances within Europe and especially within EMU that are at the root of the European sovereign debt crisis. In the last 25 years a great emphasis has been put on financial market transformation in the post-socialist countries of Central and Eastern Europe. This research aims to identify to what extent the financial market integration of CEECs contributed to the regional imbalances within the European Union and the Eurozone comparing the pre- and post-crisis periods. The research examines the patterns of post-crisis readjustment in CEECs' banking sectors and it also discusses the current policy arrangements and possible scenarios of the extension of the Eurozone to non-member CEE EU countries. For further details contact Dr. Zoltán Gál, Associate Professor and Senior Researcher (galz [at] rkk.hu).
Network structure and macroeconomic stability
The economy is a complex adaptive system, which can be adequately described by network concepts. As a result, advances in network theory can be used to describe economic phenomena. Exploring, analyzing and modelling the different layers of connections between economic agents can improve our understanding of many economic phenomena. At the same time the explicit integration of systems of relationships may help us developing more precise micro and macroeconomic models. The research topic focuses especially on the stability of economic processes and tries to understand and model this subject with tools inherited from network theory or game theory. Requirements: MA in Economics, some experience in modeling and econometrics. For further details contact Professor Tamás Sebestyén (sebestyent [at] ktk.pte.hu).
Territorial governance and regional development (public administrative, political science, public policy approaches)
the mission of local and regional self-governments in planning and economic development.
national models of management of European cohesion policy  (especially in CEE countries)
public actors, networks in regional development (partnership schemes and practices)
comparative studies of territorial governance systems focusing on the meso level
territorial reform sin Europe (rescaling, regionalization)
For further details contact Professor Ilona Pálné Kovács (palne [at] rkk.hu).
Universities and regional development
Universities are unique institutions that provide multiple contributions to economic and social development. The medieval teaching universities were translated into teaching and research universities during the 19thcenturies by first academic revolution, whereas the second academic revolution of the 20th century created the entrepreneurial university model where teaching, research and regional development are the explicit tasks of universities. This research topic focuses on the third mission of universities and all the related aspects of that.  Areas of interest include the legal and institutional changes that support the entrepreneurial turn of universities, the changes of individual attitudes/motivations, respectively risks and educational consequences guiding the entrepreneurial turn. For further details contact Katalin Erdős (erdosk [at] ktk.pte.hu). 
Tailor-Made Research Support
A distinctive feature of the International PhD Program in Regional Development is its personal, tailor-made support system aiming to assist independent, quality research and publications. The Scientific Research course in the first semester introduces students to independent research. Research Seminars starting in the second semester provide students the practical knowledge in the design and execution of their own research and then writing publications that follow international standards. By the end of the fourth semester, students are expected to be able to write a research paper that can be submitted for publication consideration to a scientific journal.
Tuition fee
The tuition fee for the Program is €12,500 - to be paid in installments in the following schedule:
1st semester: €4,000,
2nd semester: €3,000,
3rd semester: €2,000,
Doctoral examination: €500,
Doctoral procedure: €3,000,
Hungary through the Tempus Public Foundation offers scholarships for foreign nationals who intend to pursue their full BA/BSc, MA/MSc or undivided MA or PhD studies in Hungarian state accredited higher education institutions. For details see Stipendium Hungaricum below. 
Transfer Data
Transfer data: MNB (National Bank of Hungary)
Account Number: 10024003-00282716-01110009
Swift: HUSTHuhb
IBAN code: HU30-10024003-00282716-01110009
Name of the Receiver: Faculty of Business and Economics, University of Pecs
Stipendium Hungaricum Scholarship Program
Hungary offers scholarships through Tempus Public Foundation for applicants from designated countries, who would like to pursue full or partial (one or two semester-long) BA/BSc, and MA/MSc or PhD studies at Hungarian state accredited higher education institutions. 
Details and available scholarships >>>
Academic Staff
Katalin ERDŐS - Research Fellow, Assistant professor, expert in microeconomics and regional innovation
Mónika GALAMBOSNÉ TISZBERGER - Assistant professor, expert in statistics
Zoltán GÁL - Senior Researcher, expert in regional finance and regional innovation
Dániel KEHL - Assistant professor, expert in statistics
István KÓNYA - Professor, expert in macroeconomics and development economics
Gábor KŐRÖSI - Professor, expert in econometrics
Imre LENGYEL - Professor at University of Szeged, expert in regional competitiveness and regional economic development
Ilona PÁLNÉ KOVÁCS - Professor, Member of the Hungarian Academy of Sciences, expert in regional governance
Gábor RAPPAI - Professor, expert in statistics and econometrics
Tamás SEBESTYÉN - Research Fellow, expert in regional economic development
Éva SOMOGYINÉ KOMLÓSI - Research Fellow, expert in regional economic development
László SZERB - Professor, expert in entrepreneurship, small business competitiveness and entrepreneurial finance, Director of the International PhD Program in Regional Development
Attila VARGA - Professor, expert in regional policy and development, policy impact modeling and regional innovation, Director of the PhD School of Regional Policy and Economics
Type of training
Finances
Educational time
Start of education

Type of training

nappali

Finances

240 000 Ft

Educational time

8 félév

Start of education

szeptember

Type of training

nappali

Finances

ösztöndíjas

Educational time

8 félév

Start of education

szeptember
Application
The applicant has to submit the following documents by uploading them to the online application portal of the University of Pécs at https://apply.pte.hu
Minimally CEFR B2 level language exam certificate (TOEFL/IELTS/Cambridge/ECL ) less than 2 years old Official Copies of Degree Certificates and their super-legalized translation in English
MSc degree
Transcript of studies (and their superlegalized English translation)
Europass curriculum vitae in English
Research Proposal in English (2-3 page long) 
List of publications (if any)
Doctor's certificate
In order to be considered eligible for the Program, applicants must hold a Master's degree (MA, MSc) in a relevant field. Prospective students who do not possess a Master's degree in Economics are advised to complement their studies with a Master of Business Administration degree at an accredited institution. Applicants who are still conducting their studies at the time of application must submit an official letter from their institution indicating the date of graduation. Students cannot enroll at the Program until they have successfully completed their studies at the Master's level.
Deadline of application – 20th May.
Decisions on admission are made by the 31st of May.
The Research Proposal
It is a 2-3-page written statement of the research plan, which includes the explanation of the purpose of the study and the outline of the research methodology. It should comprise the following:
The planned title of the dissertation
The aim of the underlying research as well as the clearly stated motivation for the research
A preliminary literature review, i.e. a review of the state-of-the-art literature
List of references
Please note that all research proposals are thoroughly checked with an anti-plagiarism software.
Send the required documents to Gabriella Kohlmann at the following postal address:
University of Pécs, Faculty of Business and Economics
International PhD Program
Rákóczi St. 80, H-7622 Pécs, Hungary
iphd-admin [at] ktk.pte.hu
Personal interview 
After receiving all the required documents, suitable applicants will be selected for a Skype interview at a pre-arranged time. The aim of the interview is to ensure the English language proficiency as well as the personal commitment of the applicant.