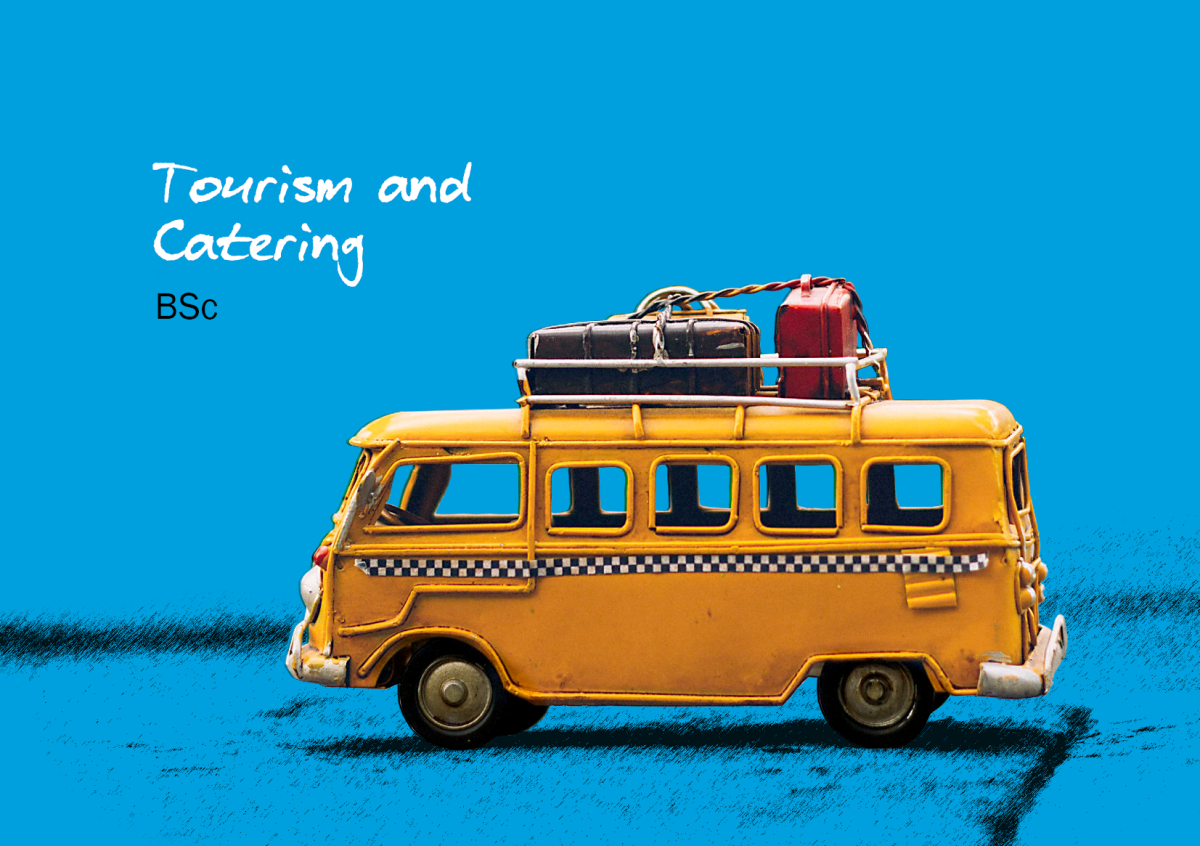 BSc Tourism and Catering
Degree: Bachelor of Sciences (BSc) in Tourism and Catering
Duration of training: 3 years (6 semesters)
Deadline of application: 07/15/2019
Next starting date: 09/02/2019
Intake: Fall
Since tourism is one of the greatest players of international commerce, represents 7% of the world's exports in goods and services or contributes 10% to the global GDP or to global employment, it is definitely worth study and later on being occupied in this dynamically growing branch wherever you come from or wherever you would like to work later. If you see the business opportunities this industry offers you are the one we need.
When you finish your studies you will be an Economist in Tourism and Catering.
With the acquired economic, business, social sciences, applied methodology and tourism and catering specialised knowledge you will be able to manage the tasks and challenges and the related workflows in a wide range of activities related to tourism and catering. You will be able to reveal and analyse the factors influencing the tourism demand, create an attractive and experience based supply and organise and fulfil the related services activities.
At the end of our programme you will have the knowledge and skills of:
You will understand the basic processes of the system of tourism and you will be able to be part of its professional operation;
You will have the knowledge of the peculiar characteristics of tourism and catering businesses and their management;
You will have practical and theoretical knowledge on the development of the different tourism products and the development and management of destinations 
Professions and jobs
tourism (destination, product) manager (both in private and public spheres – companies, local governments, state governing bodies)
tourism planner, researcher, regional development expert
hotel or restaurant manager
hotel receptionist
travel agent, travel organiser
conference and event organiser
tourism sales manager
tourism marketing manager
Program Structure
For further details concerning the academic requirements, please consult the Student Handbook.
Fees
Application fee: €100
Tuition fee:
1 150 EUR (350 000 Ft) / semester for citizens of EU member states
2 950 EUR / semester for citizens of all other countries
Deadline of payment: the first Monday of September
Deadline of payment: 15 October
Transfer data
Application Fee
Transfer data MNB (National Bank of Hungary)
Account Number: 10024003-00282716-00000000
Swift: HUSTHUHB
IBAN code: HU86-10024003-00282716-00000000
Name of the Receiver: Faculty of Business and Economics, University of Pecs
Tuition fee
Transfer data: MNB (National Bank of Hungary)
Account Number: 10024003-00282716-01110009
Swift: HUSTHuhb
IBAN code: HU30-10024003-00282716-01110009
Name of the Receiver: Faculty of Business and Economics, University of Pecs
Important notice! It is highly advisable that applicants obtain the necessary funds for at least one full academic year (including Tuition Fees, Living Expenses and some emergency funds) prior to enrolling in the Program. It is the Student's responsibility to meet all payment deadlines and to possess sufficient funds to cover accommodation and subsistence costs. For further details on payment requirements and the fee structure, please contact the Study Department.
Further information
Arrival: last week of August
Orientation day: First week of September
If you have any further questions, please do not hesitate to info [at] ktk.pte.hu (contact us).
Type of training
Finances
Educational time
Start of education

Type of training

Nappali

Finances

Államilag támogatott

Educational time

6+1 félév

Start of education

szeptember

Type of training

Nappali

Finances

350 000 Ft/félév

Educational time

6+1 félév

Start of education

szeptember
Application
Prospective students should prove their knowledge and skills in both Mathematics and English.
The applicant has to submit the following documents by uploading them to the online application portal of the University of Pécs at https://apply.pte.hu.
Minimally CEFR B2 level language exam certificate (TOEFL/IELTS/Cambridge/ECL ) less than 2 years old
Certificate of school leaving examination and
Transcript of studies (and their superlegalized English translation)
Europass CV in English
The payment receipt of the €100 application fee
Doctor's certificate
The mailing address of the Study Department is:
University of Pecs, Faculty of Business and Economics,
Business Degree Program in English,
H-7622 Pecs, Rakoczi str. 80, Hungary
Deadline for Application
For non-EU students: 30th June (we extended the application period from 30th May to 30th June)
For EU-students: 20th August
Applications submitted after 30th May / 20th August will be considered for the next academic year.
The Application Process
We confirm the receipt of application materials via e-mail.
The Assessment Board reviews and evaluates every application and makes a decision within 15 working days after receiving the application fee.
Every applicant is informed of the decision of the Assessment Board immediately via e-mail.
If the applicant meets the requirements and is informed of her/his acceptances/he must then pay the tuition fee (€2750) and send us the payment receipt.
After receiving the tuition fee, the applicant will be provided with an official Acceptance letter with which s/he can contact the Hungarian Embassy and apply for a Visa.